01443 820077 Behind Greggs, St Davids Ind Est, Pengam
Air Conditioning in Pengam, Blackwood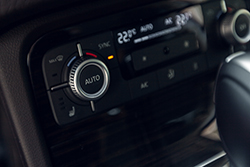 Vehicle air conditioning is important. It will help keep you cool on journeys in the summer but make sure your windscreen does not fog up in the winter months or when it's raining. There are times when the air conditioning unit stops working or becomes inefficient, which is where we can help.
Alan's MOT Garage in Pengam, Blackwood offers a full air conditioning service. If you want a quote or need more information, please contact us today!
Air Conditioning Diagnostics
We don't want you to have to spend a fortune on the air conditioning in your vehicle. Before replacing anything, Alan's MOT Garage technicians will do a full check to find out where the problem lies. It may just be that the vents are blocked, or that the system needs re-gassing. The only time we will replace anything is when it is really necessary.
All Different Makes & Models
At Alan's MOT Garage, we have the best-trained technicians. They are able to work on all different makes and models. If you have any special requirements, feel free to contact us beforehand and we will make sure we can meet your needs. Our technicians have worked on air conditioning systems for a wide range of vehicles.
Friendly & Professional Service
Alan's MOT Garage believes that the customer comes first. Our air conditioning specialists will talk you through the problem and will only replace items that are necessary.
For a full-vehicle air conditioning service in Pengam, Blackwood, please contact us today for a quote or more information.
How To Find Us
Opening Times
Mon to Fri
09:00 - 17:00
Sat and Sun
CLOSED
Phone Number
01443
820077
Address
Behind Greggs,
St Davids Ind Est, Pengam,
Blackwood, NP12 3SW