01443 820077 Behind Greggs, St Davids Ind Est, Pengam
Vechicle Repairs in Pengam, Blackwood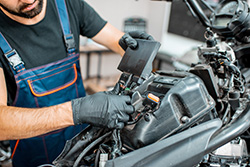 Alan's MOT Garage offers vehicle repairs in Pengam, Blackwood at an affordable price. We work with a number of suppliers to make sure we can fix your vehicle to a high standard. It doesn't matter if it is an electrical fault, the exhaust has rusted or someone has crashed into the back of you. Call Alan's MOT Garage today for more information or a quote for your car repair needs.
High Quality Vehicle Repairs At An Affordable Price
We don't believe that your vehicle should cost you a fortune when it needs repairing. At Alan's MOT Garage we make sure your costs remain low but the work is of a high standard
All the materials, items and parts used in the repair of your vehicle will be from trusted manufacturers and come with a guarantee, so that you don't have to replace them time and time again. That just defeats the object of finding a low price, right?
If you require something fixing on your vehicle, our quotes are among the best in Pengam, Blackwood. Call Alan's MOT Garage today for a quote
Repair Warranty For Parts & Labour
Our technicians are fully trained and experienced. They will only repair the items that need repairing, checking for any small problems that could turn into big problems in the future. We will go through the issues and explain them in a way that is easy to understand. That way, you can make the best choice and an informed decision.
Alan's MOT Garage believes in quality when it comes to vehicle repairs in Pengam, Blackwood. At the same time, we will explain everything, guaranteeing a friendly service at all times. If you have any questions or need your vehicle repairs explained in detail, don't hesitate to ask. Our staff will be happy to help in any way that they can.
How To Find Us
Opening Times
Mon to Fri
09:00 - 17:00
Sat and Sun
CLOSED
Phone Number
01443
820077
Address
Behind Greggs,
St Davids Ind Est, Pengam,
Blackwood, NP12 3SW