01443 820077 Behind Greggs, St Davids Ind Est, Pengam
MOT Testing in Pengam, Blackwood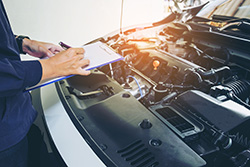 MOTs in Pengam, Blackwood are a legal requirement. Every year, cars over three years old need to have a check to make sure they are roadworthy and meet the environmental standards set by the government. Without this test, your vehicle insurance will become invalid as your car may not be safe to be on the road.
Alan's MOT Garage promises to offer an affordable MOT to check your vehicle and get it to the standard you need to get you back on the road.
Quality MOT Tests By Alan's MOT Garage
Whilst all MOT tests should be performed to a certain standard, there are some questionable companies. We want you to have the best experience and that means offering the best quality of technicians to do the job. One thing we don't believe in is cutting costs. You will only have parts repaired if they need to be to pass the test - but we will offer advice on anything else that may cause a problem between now and your next service.
MOTs For All Types Of Vehicles
The different classes of vehicles have different standards they need to reach. When you book your vehicle in for its annual MOT, we need to know the make and model so we get the class right. This allows our technicians to check the right areas and determine whether it is a pass or fail. It also allows us to reserve enough time to carry out the MOT thoroughly.
Clear Explanations For MOT Failures
At Alan's MOT Garage in Pengam, Blackwood, we want you to be happy with the service, which is why if your vehicle fails its MOT, we will give you a full and clear explanation. We'll show you the problems and explain the requirements to pass. We also issue a notice for advised changes and will talk through them if you wish.
Choose Alan's MOT Garage for your MOTs in Pengam, Blackwood. We only have the most qualified members of staff work on the vehicles and make sure you are 100% happy with all work completed to make sure your car passes.
How To Find Us
Opening Times
Mon to Fri
09:00 - 17:00
Sat and Sun
CLOSED
Phone Number
01443
820077
Address
Behind Greggs,
St Davids Ind Est, Pengam,
Blackwood, NP12 3SW