01443 820077 Behind Greggs, St Davids Ind Est, Pengam
Wheel Alignment in Pengam, Blackwood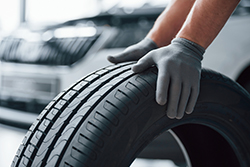 In addition to car servicing and repairs, Alan's MOT Garage provides a wheel alignment service across all car makes and models. Using the latest four-wheel laser alignment equipment, our Pengam, Blackwood technicians will ensure the wheels of your vehicle are correctly set to the optimum position as per the manufacturer's specification.
Wheel alignment (also known as tracking) should be checked regularly on an annual basis. It is important that the wheels on your car are correctly positioned, enabling the tyres to wear at an even rate. Hitting a kerb, driving over a pothole or even a speed bump too quickly can often cause wheel misalignment.
Failure to align your car's wheels correctly could result in irregular tyre wear, jeopardising the handling and subsequent safety of the vehicle. If you notice any issues with the handling or performance of your car, bring it to our car garage in Pengam, Blackwood for a wheel alignment check.
If the wheels need to be realigned, our technicians can carry out the process efficiently and thoroughly, getting you back on the road in no time!
Why Do Cars Need Wheel Alignment?
The Wheel Alignment Process
At Alan's MOT Garage, we use the most advanced system provide by Hunter Engineering Company to align the wheels in your car for better performance see the 70-second video below explaining the process.
How To Find Us
Opening Times
Mon to Fri
09:00 - 17:00
Sat and Sun
CLOSED
Phone Number
01443
820077
Address
Behind Greggs,
St Davids Ind Est, Pengam,
Blackwood, NP12 3SW